With support from the Abbott Fund, training in nutritional science and expansion of nutritional screening in hospitals is significantly improving patient care and recovery for people in China and Vietnam.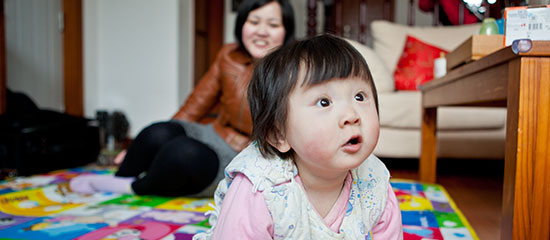 When little Xin Yu was born, four weeks early, she weighed less than three pounds.
Fortunately, Xin Yu (whose name means "happiness") was admitted to Shanghai Children's Medical Center (SCMC), where the neonatal intensive care unit is staffed by doctors and nurses with advanced training in clinical nutrition, thanks to the Abbott Fund Institute for Nutrition Science (AFINS).
Working with leading experts in China and Vietnam, AFINS is designed to advance clinical nutrition within hospitals by supporting training and health education, clinical research and high-quality nutritional patient care. In China, AFINS began as a partnership between the Abbott Fund, SCMC and the nonprofit organization Project HOPE, bringing together evidence-based nutritional research, the advanced resources of SCMC and nutrition science expertise from Abbott. The partnership has been serving as a regional model for best practices in hospital-based pediatric nutrition since 2007. In Vietnam, AFINS was established in partnership with Boston University, Bach Mai Hospital, the National Institute of Nutrition and Hanoi Medical University in 2010, with an initial focus on adult nutrition.
Driving Results, Raising Awareness
So far, AFINS has trained more than 5,400 healthcare professionals in the two countries, helping to deliver significant improvements to patient outcomes. For example, the malnutrition risk among children admitted to SCMC is 5.4 percent – a reduction of 78 percent since 2010 – and the complication rate associated with nutrition support therapy has decreased from 5 percent to 1 percent since the AFINS program began.
At the end of 2010, SCMC became the first and only children's hospital in mainland China to be accredited by Joint Commission International, which singled out the hospital's nutrition screening practices for special praise. Today, 100 percent of SCMC patients receive nutritional screening upon admission. Results let healthcare professionals flag any potential nutritional problems.
In Vietnam, AFINS has generated strong results to date in improving nutrition care for hospitalized patients through comprehensive, coordinated efforts targeting three critical needs: conducting staff training and integrating clinical nutrition into inpatient hospital care; expanding clinical nutrition education opportunities; and conducting and sharing research results on clinical nutrition best practices.
In both China and Vietnam, AFINS has been embraced by local government and hospital leaders, ensuring the long-term sustainability of efforts to strengthen hospital nutrition and provide better patient care.
For tiny Xin Yu at SCMC, the customized nutritional support provided by the AFINS team paid off. A nutrition assessment showed that the baby was at high risk for malnutrition – but after just 10 days of nutritional therapy, her weight had increased to 4 pounds, 4 ounces. Soon her parents were able to cradle their child in their arms, and Xin Yu was successfully discharged from the medical center. Today, thanks to the efforts of the AFINS-trained neonatal intensive care team, Xin Yu is a happy, healthy little girl.