Abbott had another strong quarter in Q2 2017. We committed to strong double-digit underlying growth at the beginning of the year, and we continue to deliver solid results on both on the top and bottom line.
Half-way through the year Abbott is seeing several successes as we continue to shape our company to align to current and future healthcare needs around the world.
Full financials are detailed in this news release. Among the highlights in the quarter:
In our diagnostics business, we launched the Alinity hq hematology system in Europe to help improve lab efficiencies for customers. It is the fifth new Abbott diagnostic system launched in Europe since November 2016.
Medical Devices sales growth was led by strong performance in Electrophysiology, Neuromodulation, Structural Heart and Diabetes. We now have the No. 1 position in the fast-growing neuromodulation market for treating chronic pain through spinal stimulation.
Abbott has one of the strongest pipelines in health care, spanning transformational medical technologies that are changing the way doctors manage some of the world's most pressing health concerns. Some of our other important product milestones in the quarter include:

The Confirm RXTM Insertable Cardiac Monitor (ICM), which helps physicians remotely diagnose and treat difficult to detect irregular heartbeats (cardiac arrhythmias), received CE Mark in Europe.
FreeStyle® Libre, Abbott's revolutionary continuous glucose monitoring system, received Canadian approval.
Abbott submitted the Quadra AssuraTM Cardiac Resynchronization Therapy Defibrillator (CRT-D) to the FDA for MRI-conditional labeling to allow heart failure patients to undergo full body magnetic resonance imaging (MRI) scans, if required.
Abbott's Chairman and CEO Miles D. White shares his views on second-quarter performance:
Learn more about Abbott's second-quarter 2017 results:

Click here to download a summary of Abbott's earnings highlights.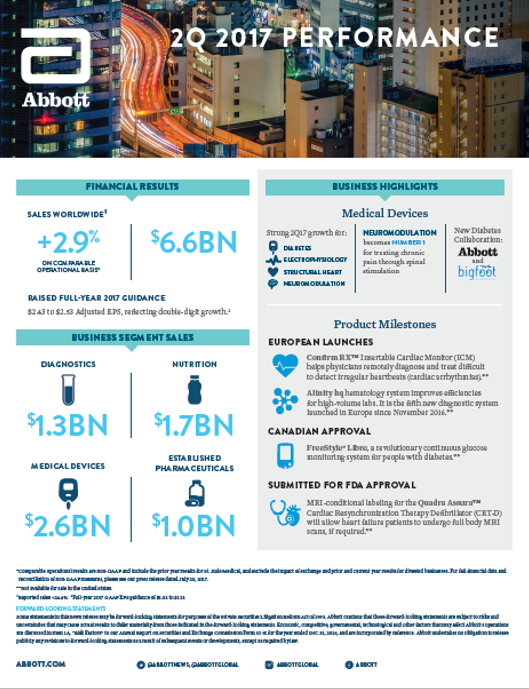 For more information on Abbott's earnings results, see the news release.