Abbott had another strong quarter in Q3 2017. We committed to strong double-digit growth at the beginning of the year and we continue to deliver.
In fact, Abbott has met or beaten Street adjusted EPS estimates every quarter for the last 10 years and achieved a 'beat' in 40 of those 44 quarters.
The steady cadence of innovation we are delivering is driving an acceleration in growth across the portfolio as we strategically shape our business to achieve leadership positions.
And our focus is paying off.
We now have leadership positions in businesses and geographies with high growth potential and our pipeline of transformational medical technologies is one of the strongest in healthcare.
You can read the full financials in this news release, but some of the major highlights in the quarter are listed below:
Medical Devices sales growth was led by strong performance across Heart Failure, Electrophysiology, Structural Heart, Neuromodulation and Diabetes. In Neuromodulation, we also continued to advance our leadership position in the fast-growing market for treating chronic pain through spinal stimulation.
Among the 20+ product launches this year alone, in the quarter we had a number of important product milestones that are changing the way doctors manage some of the world's most pressing health concerns:

FreeStyle® Libre, Abbott's revolutionary continuous glucose monitoring system, received U.S. approval.
HeartMate3 Left Ventricular Assist Device (LVAD), which helps a weak heart pump blood through the body for patients with advanced heart failure, launched in the U.S.
Ellipse™ implantable cardioverter defibrillator was approved by the U.S. FDA for magnetic resonance (MR)-conditional labeling, allowing patients to safely undergo an MR imaging scan if needed.
We continue to make progress with the launch of the Alinity family of diagnostics systems, designed to increase efficiency while providing quality results.*

Abbott secured its position as the world leader in point of care testing,
Abbott's Chairman and CEO Miles D. White shares his views on third-quarter performance:
Learn more about Abbott's third-quarter 2017 results: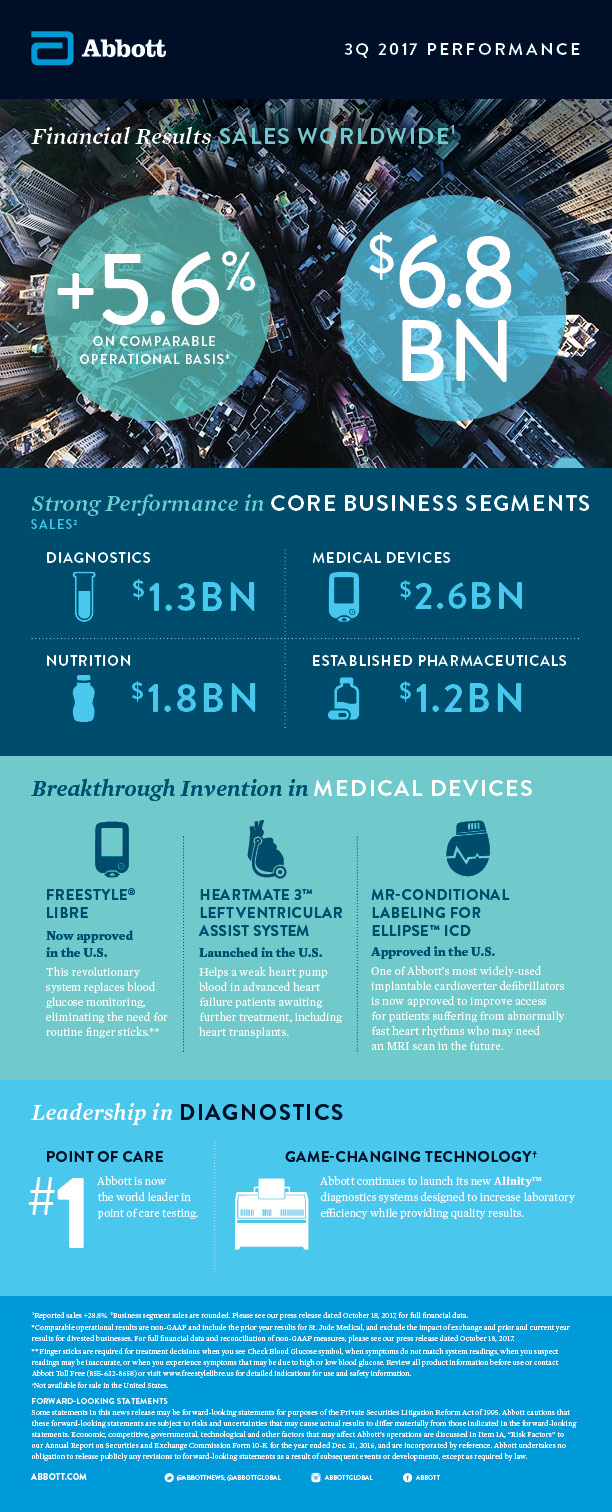 Download a summary of Abbott's earnings highlights here.
For more information on Abbott's earnings results, see the news release.
*Not available for sale in the United States.