Branded Generics: An off-patent medicine sold under a brand name that offers something of value to patients and healthcare professionals, something that makes people choose the brand.
With 100 percent of its business in emerging markets, Abbott's branded generics business – or established pharmaceuticals – is well-positioned for above-market growth in some of the largest and fastest-growing pharmaceutical markets in the world. In 2016, Abbott's pharmaceutical business saw 10.5% operational sales growth and a total of $3.9B in sales.1
Why the success? For decades, Abbott has been at the forefront of delivering high-quality, affordable pharmaceuticals – tailoring its product offerings to the specific needs of each region, offering new formulations, delivery methods and packaging. As a result, Abbott has become a trusted name for branded generics in more than 100 countries and the category is expected to expand as demand continues to grow. Today, Abbott's portfolio includes more than 1,500 products of high-quality, trusted medicines across multiple therapeutic areas.2
Want to learn more?
For more information, check out this infographic about why branded generics are playing an increasingly vital role in the healthcare ecosystem, especially in emerging markets.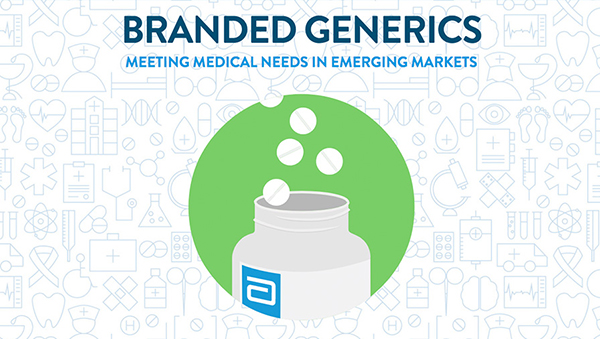 References
1. ABT 4Q16 Earnings Transcript
2. 2016 Annual Report