Everyday heroes. That's what caregivers are.

While helping other people live fully is rewarding, we know caregivers sometimes lose sight of their own well-being.
In fact, nearly three quarters of caregivers don't go to the doctor as often as they should. And many say their eating, exercise, and sleep habits have declined since taking on their caregiving responsibilities, according to a report by the National Alliance for Caregiving and Evercare.
At Abbott, we're committed to helping everyone live their best life through good health. So we talked to our medical experts about some of the most important — and practical — health tips for caregivers.
Here's what they had to say. Take a look, and then check out our guide for living a fuller life in just 30 days and send an E-card to thank the caregivers you know.
1. Food is fuel — fill-up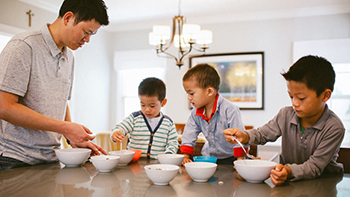 Good nutrition is the foundation of health, says Abby Sauer, a registered dietitian at Abbott. Eating nutritious food does everything from help prevent certain chronic diseases to give you enough energy to get through the day. To stay healthy and energized, eat nutritious snacks — like low fat yogurt, a pear with almond butter, or a handful of pistachios — between meals.
Tip: Pick your least busy day of the week to prepare snacks and meals (like chicken, brown rice, and steamed or roasted asparagus) ahead of time.
2. Hydrate, hydrate, hydrate
Your body's made up of 60 percent water, so you don't feel or perform your best when you're skimping on H2O, Abby says. To stay hydrated, try drinking 6-8 cups of water each day.
Tip: Track how much water you drink with the help of an app.
DYK: Caffeine can actually make it harder for your body to handle stress. Just one more reason to put down the coffee mug and pick up a water bottle.
3. Stop problems before they start
Preventive health screenings use tests that can often help identify health problems before you have symptoms, says Dr. David Spindell, M.D., internal medicine physician and Divisional Vice President of Medical Affairs in our diagnostics business. He said general recommendations for adults include screening for breast and colon cancer, cardiovascular risk factors, and certain infectious diseases, like hepatitis C and HIV.
Click here for a more detailed list of preventive screens recommended for men and women.
DYK: Some of the leading causes of death worldwide are preventable, like heart disease and stroke. So, what are you waiting for? Schedule the screening tests your doctor recommends ASAP!
4. Even short workouts count
Working up a sweat boosts energy levels, lowers stress, and gives you some of that precious "me time," says Abby — not to mention exercise's role in helping prevent chronic disease and weight gain. To get the most from your workouts, do about 22 minutes of moderate-intensity activities each day. These include things like ballroom dancing, brisk walking, doubles tennis, gardening, or even activities like mopping the floor.
Tips: Before going to bed, think about when you'll have some free time to exercise the next day. Then put it on your calendar.
DYK: You still get health benefits if you break your workouts into multiple 10- or 15-minute sessions.
5. Get enough ZZZs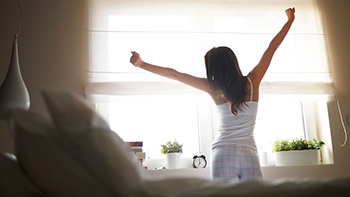 "A good night's sleep [7-9 hours] helps you pay attention, stay alert, and feel your best," says Dr. Beth McQuiston, M.D. board-certified neurologist, registered dietitian, and Medical Director for Abbott's diagnostics business. Just as important, proper sleep helps prevent a number of heart problems, according to Dr. Krishna Sudhir, M.D., cardiologist and Divisional Vice President of Medical Affairs in Abbott's vascular business.
Tips: Try going to bed and waking up at the same time each day, switch off the TV before you snooze, and keep your bedroom comfortably cool at about 65 degrees Fahrenheit (18 degrees Celsius).