In the aftermath of recent hurricanes, earthquakes and other natural disasters, the ability to respond quickly and effectively has never been more important.
That's why Abbott works with trusted non-profit groups to help communities prepare before the storm – so that they can respond quickly when natural disasters strike.
Starting in 2007, Abbott pioneered efforts with Direct Relief and Feeding America to store nutrition and healthcare products at clinics and food banks in high-risk areas. Today, these "disaster relief packs" are designed to get the right products in the right places before a disaster hits. This first wave of relief provides immediate aid until traditional relief efforts come in with ongoing support.
In 2017, Abbott is once again working with Direct Relief to provide supplies for disaster relief modules that are sent to 50 health clinics that provide community medical care across the U.S. southern coast. Donated Abbott products include rehydration solutions, nutrition drinks and bars, and healthcare products like diabetes monitors and test strips.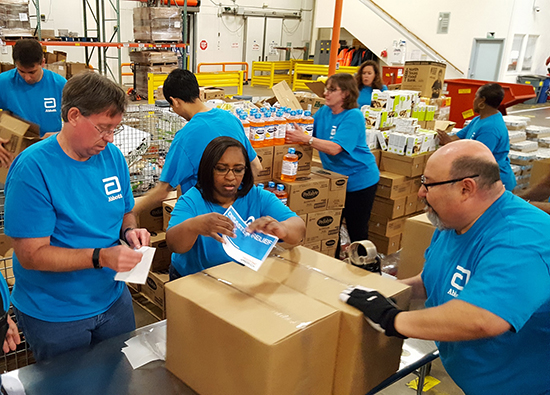 As part of Abbott's partnership with Feeding America, volunteers from Abbott's diagnostics facility in Dallas, TX, help a local food bank prepare "disaster relief packs" stocked with Abbott nutrition products.
With Feeding America, Abbott is providing nutrition relief packs to local food banks in New Orleans, Dallas and Puerto Rico. Designed to be given directly to families affected by disasters, the packs can meet immediate nutritional needs for three days. Tailored to different family sizes, the packs contain Abbott nutrition drinks and bars, as well as rehydration solutions for children and adults.
Over the past decade, when hurricanes hit communities across the U.S., health clinics and food banks across the region were prepared for the flood of water – and the flood of requests for aid. Thanks to the disaster relief packs, more than 621,000 people had access to healthcare and nutrition.
In addition to the targeted disaster prep programs, Abbott also is a longtime supporter of international disaster relief efforts around the world. Over the past decade, Abbott and its foundation the Abbott Fund have provided more than $40 million in funding and products to help meet both immediate needs and support long-term recovery efforts. In recent years this included a rapid response to earthquakes in Chile, China and Haiti, typhoons in the Philippines and Vietnam, and hurricanes in the U.S.
When natural disasters strike, it takes a strong, organized and dedicated effort. Disaster relief packs can provide a faster, more effective response – and sustained relief helps communities to recover and rebuild. Taken together, these efforts help sustain and save lives.