At first glance, the 31-year-old auto-mechanic didn't fit the profile of a patient at risk for heart trouble. He was young and physically active. But his case included important factors that are not always obvious to patients or physicians – specifically a dangerous condition inherited from his parents.
David K. Spindell, MD, recalls the patient who came to his office complaining of sporadic chest pains. "I asked him about his family history, and he said his dad and mom had premature heart disease at an early age," remembers Spindell, now divisional vice president of Medical Affairs and Diagnostics for Abbott.
"As a result, there was a heightened concern about the cause of the chest pains and the patient was sent for a stress test. The stress test showed significant heart disease, and he ended up having heart bypass surgery."
Given the man's age and the fact that his work entailed physical labor, Spindell says, there could have been a delay in the diagnosis had he not known his family history.
"I hope that I eventually would have gotten the right diagnosis, but knowing his family history certainly helped point me to the important tests much sooner than might have been otherwise."
Knowing your family's health history greatly aids your doctor in finding the right treatments for you at the right time. Unfortunately, many patients come up blank when asked about their family's medical background, which leads to delayed tests, late diagnoses, and the worsening of conditions that could have been prevented. Research shows that family background is one of the strongest risk factors for diseases such as diabetes, heart disease, autoimmune disorders, and mental illnesses.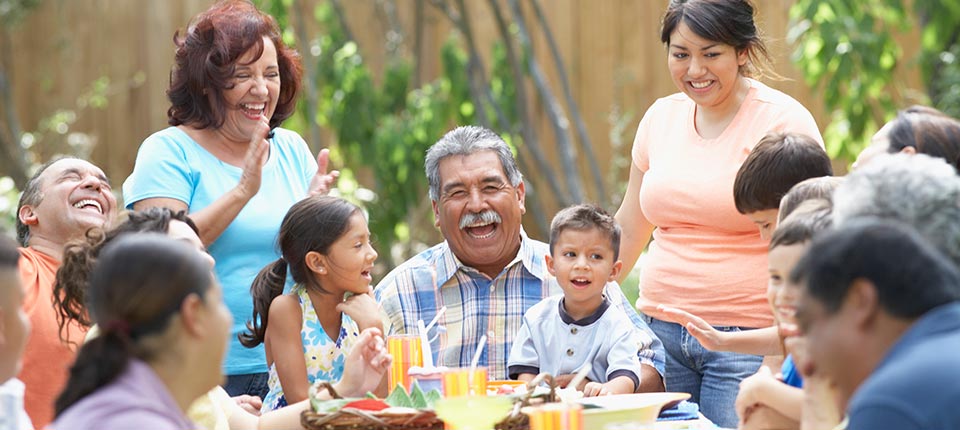 Use family gatherings to collect clues about your own health
How can you collect data on your own medical history? Find a time and place when everyone is gathered together. A family celebration may pose the perfect opportunity to start a conversation about health and the importance of learning about hereditary diseases.
Chances are, you'll leave the dining table with more than just a belly full of mashed potatoes, but some new family knowledge that will improve your health.
But before you start the conversation, make sure you know what questions to ask. Below, Spindell offers tips on the best ways to get the conversation started and capture the important information.
Decipher the top diseases
When quizzing your family on medical history, focus on specific conditions that could run through your bloodline. Ask about cancers, diabetes, cardiovascular disease, and high-blood pressure for starters, Spindell suggests.
Tipping your doctor off to a family risk of premature heart disease or cancer could help guide him or her in treating you. Early screenings can help spot cancer, while diet and exercise management may help curb heart disease before it develops, Spindell notes.
Remember to ask female relatives about breast cancer and male relatives about prostate cancer. These diseases are among the most common forms of cancers and often have a hereditary component.
Dig deep for answers
Sure you know about Mom's migraines and Dad's lactose intolerance, but what do you know about Grandma and Gramps?
Patients tend to know about the health history of their parents, but the gaps widen when it comes to older relatives, Spindell said.
"Try to find out about mom and dad, grandparents, brothers and sisters, and aunts and uncles, if you can," he says.
Ask the right questions
Age is more than just a number. It's key to your family's full medical history picture. When inquiring about diseases, find out the age family members developed the condition, Spindell recommends.
"Age of the onset is very important," he says. "If somebody had a heart attack when they were 50 years old, that's a lot different than a close relative that had a heart attack at a much later stage of life, such as 90 years old."
Keep in mind that causes of death are sometimes misidentified. For example, Spindell was told that his grandmother died of a cancer in her stomach. He later learned she succumbed to colon cancer – a fact that makes a difference in terms of what age her descendants should start screening for the disease. Ensure that family members are clear on exact causes that afflicted relatives.
Tackle tough conversations
Asking your family about their medical history may not sound like the most comfortable conversation. ("Hiya Grandpa, how's your prostrate treating you?") However, you might be surprised at how easily it unfolds.
Your family matriarch or patriarch can usually provide critical clues about relatives and their medical history. Unfortunately, such vital knowledge is lost when your oldest family member passes away.
Use these conversations as an opportunity to talk about ways to keep everyone healthy, Spindell says.
"Couch it in the fact that everybody in the family wants to help each other as much as possible, and make sure we're all as healthy as we can be, and (family history) is an important part of it," Spindell says.