In the winter of 2011, Marissa Flora took a hard hit to her head during a soccer game. A competitive athlete, she considered it a minimal injury and continued to play in the game. Over the next couple of years, she sustained additional head injuries and experienced various symptoms, including headaches and fatigue. It turns out, Marissa's lingering symptoms were actually the result of multiple mild traumatic brain injuries (TBI), commonly known as concussions.
In middle school, Marissa Flora thrived as an active, competitive soccer player on her school team. While she was in seventh grade in 2011, she hit her head on a wall while chasing a ball during an indoor soccer game. Not giving much thought to the injury, she continued to play the game.
Sidelined by a concussion diagnosis
More than a year later, Marissa was playing in a soccer tournament and got hit in the head with the ball and collided with another player. A determined athlete, Marissa didn't let her injuries stop her, and she kept playing throughout the remainder of her soccer season.
In the weeks following the tournament, however, Marissa experienced constant headaches and fatigue and was eventually diagnosed with concussion – a brain injury caused by a bump, blow or jolt to the head that disrupts the normal function of the brain – and was told by her doctor to rest and recover.
The next year in high school, Marissa continued to play competitive soccer. But, after she sustained a third concussion during a game, her doctor shared information that would change her soccer future forever.
After reviewing her case, the doctor told Marissa and her parents that if she got another concussion, she could end up with permanent brain damage. Not willing to take the risk, she was sidelined from playing and learned to manage her ongoing concussion symptoms, including sensitivity to light, nausea, balance issues, fatigue, headaches and migraines and memory problems.
Teaching others from her own experience
Through her recovery process, Marissa became actively involved in a group dedicated to fellowship among other student athletes, some of whom had also been injured. The group encouraged her to look on the bright side and towards the future, and she shifted her focus from herself to what she could offer to others.
Although she hung up her cleats as a player, Marissa continues her involvement with her high school soccer team, becoming a team manager. She says, "I'm still an athlete at heart, and I know what the team needs and what goals they're trying to achieve."
Marissa plans to become an athletic trainer in the future so she can teach coaches and players how to recognize the signs and symptoms of concussion. She encourages players to be honest with themselves, their coaches and their families if they suspect a brain injury.
Speaking from her experience as a former athlete, Marissa says, "If you think you might have a concussion, sit out and don't play until you get checked out. Playing in the game for a few minutes is not worth experiencing symptoms for the rest of your life."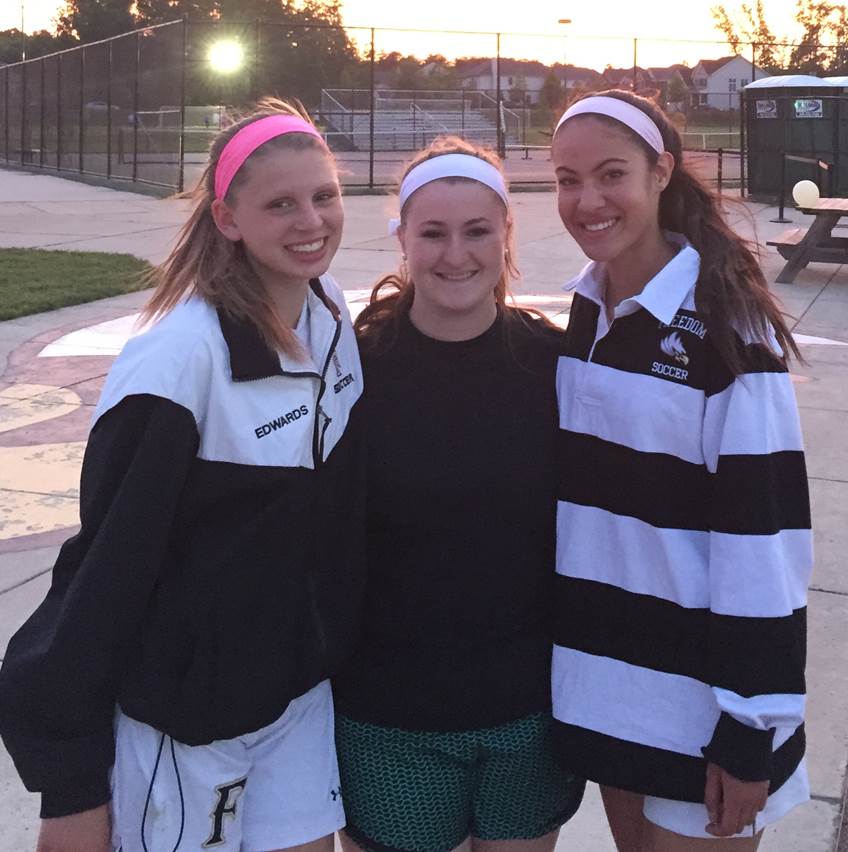 Marissa Flora serves as team manager for her girls' high school soccer team.
Recognizing the signs and symptoms
For people who may have experienced a concussion, quick evaluation and treatment is important to minimizing additional injury and preventing long-term problems. It's important for athletes, coaches, parents and others to be able to recognize the common signs and symptoms of concussion:
Physical: Headache; fuzzy or blurry vision; nausea or vomiting (early on); dizziness; sensitivity to noise or light; balance problems; feeling tired or lacking energy
Thinking/Remembering: Difficulty thinking clearly; feeling slowed down; difficulty concentrating; difficulty remembering new information
Emotions/Mood: Irritability; sadness; being more emotional than usual; nervousness or anxiety
Sleep: Sleeping more or less than usual; trouble falling asleep
For those diagnosed with concussion, physical and mental rest is key. Most doctors recommend getting enough sleep and limiting activities that make your symptoms worse such as reading, watching too much TV or spending too much time on the computer.
The sooner people are diagnosed with concussion, the sooner they can rest, recover and hopefully return to good health and the activities they enjoy most.
In honor of Brain Injury Awareness Month, check out the following resources to learn more about concussion: