World Blood Donor Day on June 14th is an opportunity to raise global awareness of the life-saving nature of blood. This year's theme, "Blood connects us all" has special meaning for mother, Gina Walker.
From the very beginning of her pregnancy, Gina had complications. At her first appointment, her doctor could not detect the baby's heartbeat and said that she would most likely suffer a miscarriage. Miraculously, weeks later, the doctor discovered the baby was alive and healthy, but Gina's doctor gave her some frightening news: Due to a rare condition, Gina's own health could be at risk during the delivery process.
To help prepare for the delivery and monitor Gina and her baby's care, she was transitioned to a large hospital with access to a blood bank. The team of doctors explained that Gina would need to undergo a cesarean section (C-section), after which she would need a hysterectomy to help control the bleeding that it was anticipated she would experience.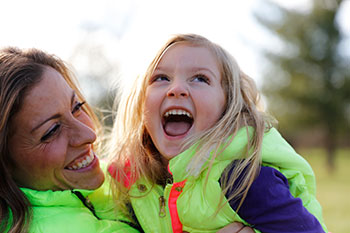 A healthy Addison Grace Walker was born on February 15, 2012, and whisked off to the neonatal intensive-care unit (NICU) to receive assistance with her breathing. But as suspected, it was a different story for Gina. During the planned hysterectomy, doctors spent nine hours fighting for Gina's life, giving her more than 500 units of blood components.
Gina was kept in a medically induced coma for a week and the doctors brought her into surgery two more times to help repair the damage to her bladder, abdominal wall and pelvis, and then to help stop the bleeding.
For Gina, World Blood Donor Day is a reminder that she and her family had a happy ending. "I hope that by hearing my story, people will be inspired to take action. I am alive to see my children grow up because someone gave blood," said Gina.
Abbott's continuous improvements to blood screening technologies for more than 40 years underscore the company's commitment to ensuring the safety of the world's blood supply. Blood transfusions, such as the ones that Gina received, help to save millions of lives every year. Despite the constant need for donated blood, only a fraction of people eligible to donate blood actually does so. That's why Abbott and world renowned soccer player, Cristiano Ronaldo, Forward for Real Madrid and Captain for Portugal's national team, have partnered to bring attention to the need for blood donors.
Ronaldo first gave blood when he was 24 years old after witnessing his teammate struggle to secure bone marrow donations for his young son. Since then, he has continued to donate regularly and has avoided any activities that would prevent him from donating, including getting a tattoo.
Last year, he became the first global ambassador for Abbott's BE THE 1TM Donor movement to inspire and motivate the next generation of people around the world to regularly donate blood.
"We can all make a difference by donating blood -- blood saves lives," says Ronaldo.
To learn about the non-profit that Gina Walker founded to raise awareness about life-threatening conditions that impact both the mother and fetus, please visit: www.hopeforaccreta.org.
Want to learn more about blood donation? Check out these resources: