During the month of November, the condition of diabetes is recognized through the American Diabetes Association's Diabetes Awareness Month, and the International Diabetes Federation's World Diabetes Day (WDD) on November 14. Both of these observances recognize the importance of healthy eating as a part of effective diabetes management. Abbott develops products designed to help make diabetes management easier, and proudly supports people with diabetes around the world in November and throughout the year.
In the spirit of this year's WDD theme focused on healthy nutrition, meet Dolly Ramos. Dolly has mastered the art of managing type 2 diabetes. Through experience, planning and some creative effort, Ramos keeps her blood glucose within the target range recommended by her doctor – all while leading a very active life.
A Northern California real-estate agent, Ramos is frequently on the go from early morning until late afternoon. Her workdays consist of meetings, home tours and showings all over the San Francisco Bay Area. This means she never knows exactly when or where she will be eating her next meal, and is regularly searching for a place to test her blood glucose. Ramos has become comfortable testing in her car, her office, her home and even in the restrooms of homes she is showing when needed.
"When I was first diagnosed in 2008, I struggled a bit," says Ramos. "But now I'm a pro. I've learned how to manage diabetes within my day."
Ramos' car and purse are typically loaded with open house signs, flyer holders and lock boxes. To these tools of her trade, Ramos adds healthy snacks, water and her blood glucose meter, Abbott's FreeStyle Lite. On any given day, Ramos's snacks include nuts, mini carrots, shelled pumpkin seeds or air-popped popcorn – foods she enjoys that also are diabetes friendly.
"Based on my doctor's recommendation, I test my blood glucose at least two to three times each day – in the morning after I get up, right before or after lunch, and then again before bedtime," says Ramos.
A former aerobic dance instructor, Ramos now walks as much as possible and gets creative to counter the time she must be sitting behind a desk or steering wheel each day. "I usually make my phone calls standing up, walking back and forth in front of my desk, or I do chair exercises while sitting at a desk or in an airplane, bus or train. The idea is to just keep moving," she says.
In addition to the challenges of exercising, eating well and finding a time and place to test her blood glucose multiple times each day, Ramos has to remember to refill prescriptions for blood-glucose test strips and maintain her supply of both lancets and strips.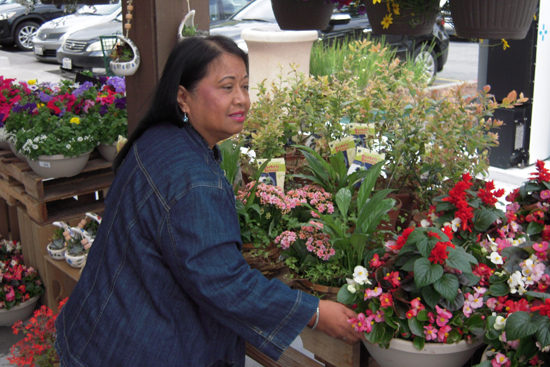 Dolly Ramos has type 2 diabetes and has used the Abbott FreeStyle Lite blood glucose monitoring system on a daily basis for more than two years to help manage her disease.

"At one point last year I went to the pharmacy to get more lancets, and the pharmacist told me they were out of stock," said Ramos. "I never would have thought that - on top of worrying about testing every day – I would have to think about my supplies not being available."
Ramos now prioritizes filling prescriptions and obtaining more blood-glucose testing supplies as soon as she starts to run low. "It adds even more to my schedule, but this is what needs to be done for me to stay healthy, so I make it work."
Here's Dolly's personal tips for "making it work" with diabetes:
Remember that knowing you have diabetes is something to be grateful for, because it puts you in a position to handle and manage the disease
Every morning, think ahead to plan time for testing, meals and exercise – then make sure you have back-up plans such as snacks, alternative places to test, and creative ways to squeeze in your workout
Find supporters such as family, friends and co-workers who will encourage you to stay healthy every day
Have a positive mindset and be hopeful – take heart that advances in medicines and success in diabetes research suggest a future when this disease is conquered - maybe even in our lifetime
4 NUTRITIOUS TIPS FOR PEOPLE MANAGING DIABETES
Here are four tips for helping those with diabetes eat healthy and stay energized to live the best life possible.
Bring Nutritious Energy On-The-Go: It's not always easy finding foods that won't spike your blood sugar when you're out and about. Bring a bag of carrots, nuts or other healthy snack, or specialized nutrition such as Glucerna® can help give you the right nutrition to manage your blood sugar when other options aren't available.
Stay Hydrated: It's always important to get plenty of water as our bodies depend on it. Even mild dehydration can cause fatigue and drain your energy. Additionally, a diet that includes water-filled foods such as broth-based soups and fruit can help keep your hunger in check.
Don't Forget About Fiber: Diets high in fiber including foods such as legumes, brown rice and fresh fruits may help keep you feeling fuller longer while helping manage blood sugar levels. Diets rich in fiber also help control cholesterol levels, which can reduce your risk of heart disease - a serious complication of diabetes.
Be Picky About Protein: Fatty fish like salmon containing omega-3s are a great source of protein for people with diabetes. Diets rich in omega-3 fatty acids have been shown to help lower blood pressure, decrease inflammation and reduce the risk of heart disease — all things that are especially important when you have diabetes.
The views expressed are not intended to be used as a substitute for professional medical advice. Please consult your physician or qualified health provider regarding your condition and appropriate medical treatment. Individual symptoms, situations and circumstances may vary.