The beautiful thing about innovation is it's always moving us forward. The best solutions of today aren't the best solutions of tomorrow. Inventors keep making things better as they build on the reservoir of science behind them.
That means that the inventions that will save lives tomorrow will be dreamed up by people who might be 15 years old today. Some people call them Gen Z.
Maybe it will be Evon, or Nick or Emily who creates a new device that will help who-knows-how-many people live their lives more fully – in ways that maximize their potential.
Only time will tell. But Abbott isn't waiting around for these talented young people to find us. We're coming to them.
Five years ago, Abbott started a high school STEM internship program under the direction of Corlis Murray, Abbott's top engineer whose career path took shape after a high school internship of her own. A product of Dallas public schools and with no example of engineering in her family, she said having an experience that "demystified" engineering for her made all the difference.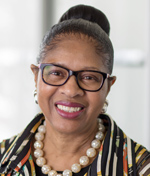 Corlis Murray, SVP, Quality, Regulatory and Engineering Services"You can change a life when you expose people to possibilities at a young age," Corlis said. "I am proof that your ZIP code does not have to determine your destination. That's one thing I try to impart on these talented young people in our program."
The internship program welcomes all applicants, but pays special attention to young women and minorities who apply, with a transparent awareness of the gap that persists in STEM fields even today. Two-thirds of interns last summer were young women and nearly 60 percent were minorities. To date, 97 percent of those who complete the internship go on to major in a STEM field.
See three of our former high school STEM interns featured in the Chicago Tribune.