New Year's Eve, a fresh set of 365 days just about to drop, and Gary Thompson was having a fantastic time. Maybe too fantastic.
"We were celebrating, eating lots of junk food that we probably shouldn't have been eating, consuming a fair amount of alcohol," Gary said. "You know, typical of New Year's Eve."
But the start of 2013 wasn't feeling anything like the close of 2012.
"I told my wife, 'This is different. I just don't feel as good as I think I should,' " said Gary, who was 60 at the time. "I think I just drank too much, just had too much fun."
A couple hours drive from their home, Gary's wife Diane didn't have a good feeling: "I think we should go to the emergency room."
"I think you might be right," Gary said. "Maybe we should."
At the emergency room, a full complement of lab tests and EKG found ... nothing.
Maybe it really had just been some bad indigestion from an overindulgent welcoming of a new year. Or maybe it was Gary's hiatal hernia acting up again. Whatever was making him feel lousy, the usual suspects weren't in the lineup.
Gary's ER doc wasn't convinced and, while giving him the green light to travel, recommended he see a cardiologist for a stress test when he got home.
"The test was going pretty well, and I think, 'Man, I'm doing really well.' But then I started having like this burning sensation in my chest," Gary said. "Have you ever been outside and you're running or some physical activity in real cold air and you get this burning in your trachea and your lungs? Well that's exactly what that felt like when I was on this treadmill."
His test results were frustratingly delayed, in part because of a preference of his cardiologist (who demanded Gary hear the doctor's diagnosis and prognosis in person and would not share over the phone) and in part because that was impossible at the moment. You see, Gary and Diane were away from home again, sitting bedside with their adult son who'd suffered an accident at work that threatened his life.
When his son was out of the woods medically, Gary decided a change in his care was in order.
From his experience in cardiac cath labs going back to the 1970s (he's currently a divisional vice president for global clinical operations at Abbott, where he's in his 28th year), Gary knows his way around a EKG report. "I've seen lots," Gary said.
And when he saw his? "I said, 'Oh, oh there's definitely something going on here.' "
He confirmed his suspicions with Dr. David Lee, a cardiologist at Stanford. When Dr. Lee reviewed the EKG from Gary's stress test during an examination, he agreed. Something was going on. He wanted to get Gary help, as soon as possible.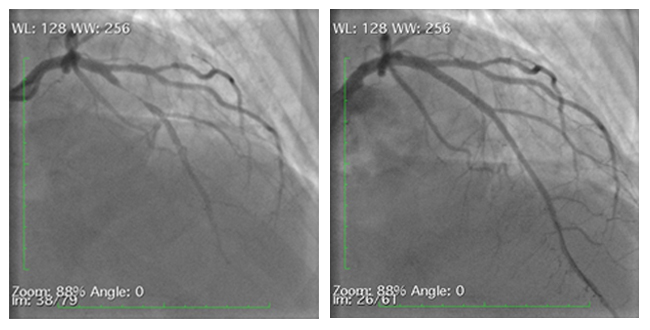 Gary Thompson's left anterior descending coronary artery was nearly completely blocked before doctors inserted an Abbott stent.
During a minimally invasive procedure, Gary received an Abbott XIENCE drug-eluding stent in his left anterior descending coronary artery.
"Dr. Lee came into the recovery room and told me, 'Well, let me show the pictures.' I had like a 97 or 98 percent blockage of my artery.
"In the industry, typically we call that a 'widow maker.' "
That didn't happen.
Gary is still very much alive, continuing his Abbott career and working on his boat on the weekends. He and Diane are still happily married.
Gary said he has had no complications in the five years since his stent went in. He's continued to take a baby aspirin (which he credits with saving him from a heart attack) as well as exercising more regularly, eating healthier and striving for a better work-life balance.
A night of partying followed by a visit to an ER and cardiologist leading to a stent implant to clear a near-total blockage that could have killed him … well, it wasn't how he expected to start 2013. But all these years later, Gary — Diane's husband, father of two, grandfather of five — is feeling better all the time.
"I feel great," Gary said.
For U.S. Important Safety Information visit: https://vascular.abbott.com/Xience-Stent-Safety.html#isi
This story relates an account of an individual's response to the treatment. This patient's account is genuine, typical and documented. However, it does not provide any indications, guide, warranty or guarantee as to the response other persons may have to the treatment. Responses to the treatment discussed can and do vary, and are specific to the individual patient.