It's a place no Boston Marathoner intends to end up: The medical tent. Luckily for runners, an unexpected visit means the expert care of 1,700 volunteers ready to tackle nearly any emergency with hundreds of beds, I.V.s, ice packs, and monitors. Among their most efficient tools? A small handheld device that could produce life-saving results: Abbott's i-STAT analyzer.
The portable tool is used to analyze the blood of runners who may be in medical distress. Providing results in just minutes, the i-STAT system can help medical staff quickly determine a treatment path and if possible, ease runners back onto the course as fast as possible.
"The i-STAT is a really powerful tool for the medical team to help them triage, diagnose and monitor runners that come into the tent," said Katie Mims, director of strategic marketing for Abbott's point of care diagnostics business and former registered nurse. "Before the i-STAT, runners would have to sit out until they felt better. Being able to treat them quickly and having a definitive diagnosis, may help get them back onto the course so they can finish their race."
A critical tool on race day
According to Chris Troyanos, ATC medical coordinator for the Boston Marathon, the marathon team sees a range of medical conditions during race day, including respiratory trouble, heat stroke, and dehydration.
Runners who need attention are swiftly triaged in the medical tent, where staff monitor illnesses and make quick medical decisions.
"The whole idea of what we're trying to do is lessen the impact of race day on our public safety system," Troyanos said. "We're trying to lessen the amount of [emergency medical] transports ... In my opinion, the i-STAT is a vital piece of equipment towards that goal."
Medical staff use the i-STAT system by inserting 2 to 3 drops of the patient's blood into a cartridge and placing the cartridge into the handheld device. Minutes later, medical staff can view results.
The i-STAT system can test electrolytes, particularly sodium levels, as well as lactic acid levels, and cardiac markers that help detect a heart attack, Mims said. Blood tests sent to a lab on the other hand, may take hours for results to return.
The i-STAT is especially beneficial when runners are showing signs of dehydration or hypernatremia, Troyanos said. Treatment for hypernatremia - an electrolyte problem defined by a rise in sodium concentration - must be handled very carefully.
"We are not providing any runner with an I.V. until we know their sodium levels," Troyanos said. "The i-STAT makes a major difference. To have the ability to use a point of care device and quickly determine what [the levels are] is a massive help to us."
A resource that crosses landscapes
The Boston Marathon is just one event where the i-STAT system is transforming how patients receive care. The portable tool is being used at many of the Abbott World Marathon Majors races to quickly assess runners who need medical attention and help identify optimal treatment, Mims said.
"Without this portable tool, these runners showing signs of severe dehydration or hypernatremia would likely be transported to the hospital for diagnostic tests and follow up," she said. "The fact that we can bring the diagnostics right to the runner's side is truly the power of [the i-STAT]. It's wonderful for runners to have access to a tool like this that can help with very quick treatment."
Outside of marathons, the i-STAT is taking up shop in medical centers around the globe. In the U.S., one in three hospitals currently use i-STAT systems, and the devices are useful in nearly every corner of the hospital from radiology to the intensive care unit to the operating room.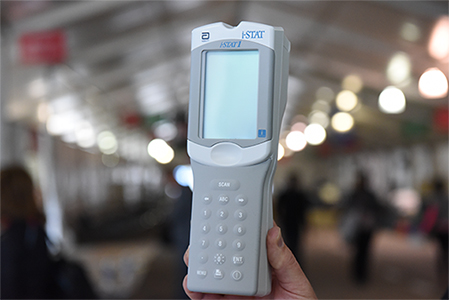 Medical volunteers use Abbott's i-STAT system on the sidelines of five of the six Abbott World Marathon Majors races.
"Because we have the broadest menu of tests available in one single portable platform, we're able to meet different needs of multiple patient types across the entire care spectrum," Mims said.
Medical professionals are also using i-STAT systems in outpatient clinics to aid primary care visits and treatment of chronic disease, she added. Globally, the devices are invaluable in rural health settings that have little access to diagnostics.
"Up to 70 percent of critical clinical decisions are influenced by diagnostic information, so you can clearly see why it's so important to have quantitative information to help diagnose and treat patients, no matter the setting."
Saving lives by saving time
By enabling medical staff to quickly assess an individual's health status, the i-STAT improves efficiency and quality of care.
For example, the system has the ability to help detect heart attacks, allowing staff to rapidly help determine if the runner is experiencing an imminent or current heart attack, Mims said. The results help staff decide whether the patient should be transported to an emergency department for further evaluation and treatment.
"In the past, the runners would have to be taken to a nearby hospital and thereby, couldn't finish the race," she said.
With its rapid readings, the i-STAT also saves medical centers from an influx of patients on race day. With approximately 30,000 athletes running the Boston Marathon, nearby hospitals are grateful for the tests and care that runners receive in the medical tent, Troyanos added.
But perhaps the biggest advantage to the i-STAT's usage at marathons, is that it gives runners a better chance at crossing the finish line – even if an unexpected mishap creates a minor detour.
"The power to finish the race is priceless," Mims said. "It's a big win for runners."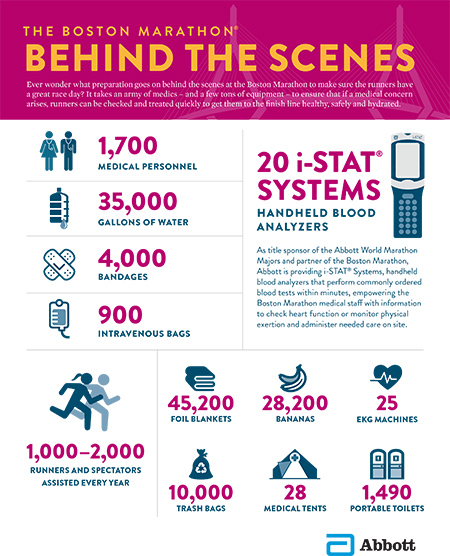 Learn more about the behind-the-scenes preparation for the Boston Marathon.