With its rainbow colors, the image has an unexpected beauty. But its real appeal lies in the information it provides to doctors treating cardiac arrhythmias (abnormal heart rhythms). That's because this image, which comes from Abbott's newly launched EnSite Precision cardiac mapping system, is just part of a much more detailed display showing the electrical activity in a patient's heart.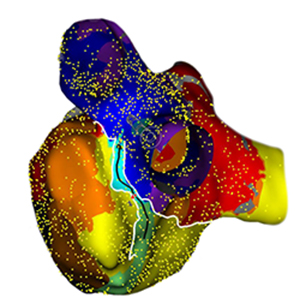 The highly detailed, three-dimensional models and maps that the EnSite Precision system provides help doctors more effectively diagnose — and treat — irregular heart rhythms.
Since its approval by the United States Food and Drug Administration in December, the EnSite Precision system – which came to Abbott through our recent acquisition of St. Jude Medical — has already been used in 12 U.S. states. The technology also has been used to help more than 15,000 patients in 29 countries outside the U.S.
So why is having a detailed map so important?
To understand that, you need to know about the heart's "electrical system." It's complicated, but the short version is this: Your heartbeat is governed by a series of electrical impulses that start — if everything's functioning properly — in a group of cells at the top of your heart. Each impulse travels through the upper chambers of your heart (the right and left atria), pumping blood into the lower chambers, called ventricles. At this point, the electrical impulse moves into a group of cells between the upper and lower chambers where it is slowed down, giving the ventricles time to fill up with blood. The impulse then moves to the ventricles, causing them to contract and pump blood to the lungs and the rest of your body. Once the ventricles relax, the process starts over again.
However, if you have atrial fibrillation (AF) – and, according to the U.S. Centers for Disease Control and Prevention, as many as 6.1 million people in the United States alone could have the condition — these electrical impulses can become disorganized. The muscle cells in your atria twitch in an uncoordinated way, and your heart doesn't pump efficiently. This can lead to blood pooling in the atria and subsequently to the formation of blood clots. If one of these clots traveled to the brain, it could cause a stroke.
Many people with AF are treated with medication that reduces symptoms but doesn't actually address the underlying problem. But some people with AF undergo a catheter-based procedure known as ablation. In an ablation procedure, doctors try to destroy the abnormal tissue that's disrupting the normal flow of electrical signals.
Before the invention of mapping technology like Abbott's, if a patient had multiple arrhythmias it was very time consuming to figure out the source of the problem. In addition, the tools were not always precise enough to fully understand the patient's underlying and specific physiology. As a result of this, cardiac ablation procedures using older technology could be frustrating and provide sub-optimal results.
Our technology is designed to change that.
In addition to providing detailed maps, EnSite Precision allows catheter navigation during procedures to treat irregular heart rhythms to occur with minimal medical x-ray imaging. That means there's less potential for health risks that are linked to excessive radiation exposure.
It also introduces new solutions, such as the EnSite AutoMap Module, which helps doctors more quickly identify the source of an irregular heartbeat and enables physicians to build a map of the heart 10 times faster than current systems.
"We expect the EnSite Precision cardiac mapping system to become the new standard for identifying abnormal heart rhythms when tailoring treatment for patients suffering from arrhythmias," said Srijoy Mahapatra, M.D., Medical Director of Abbott's electrophysiology business.
With innovation like this, Abbott is better able than ever to help people get healthy, and get back to living their fullest possible lives.
For more information about the EnSite Precision cardiac mapping system, please see these resources: