While Abbott continues to develop game-changing health technologies for people around the world, we are also focused on creating value for our shareholders.
Most recently, the company announced it will increase its quarterly common dividend to 28 cents per share from 26.5 cents per share – marking 46 years of raising its dividend. In fact, Abbott has been paying dividends every quarter – that's 376 consecutive quarters – since 1924.
Our laser-sharp focus on management and execution has translated into a bright future for the company, which is being recognized by the Street several times over. This year alone, our stock achieved a number of all-time highs and is up more than 40 percent since January. We also completed more than 20 product launches, achieved a number of early successes with the integration of St. Jude Medical – including important product milestones, and created the world's leading point of care business.
During the last 10 years, we've also delivered more than $32 billion in cash to shareholders through dividends and share buybacks.
To learn more about company dividends, view this infographic, or click here for a Dividend 101 story.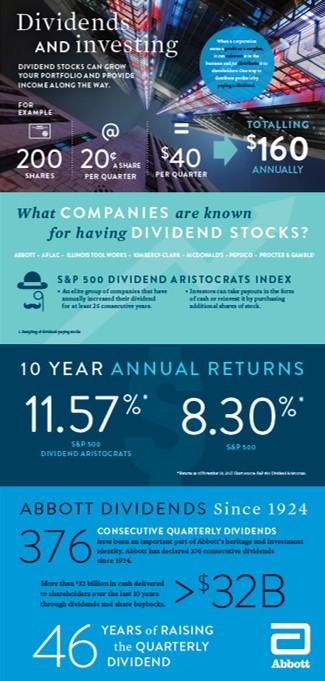 Additional Resources
Dividends and Investing Infographic – Infographic
50 Dividend Stocks You Can Count on in 2018 – Kiplinger.com Nov. 13, 2017
Abbott Posts Strong Third Quarter – Abbott Newsroom Oct. 18, 2017
Abbott Labs' Stock Offers a 20% Return – Barron's Feb. 11, 2017
Op-Ed: She Bought Just 3 Shares and Became a Multimillionaire – CNBC Oct. 24, 2016